Use Google Analytics to enhance your Credit Union marketing by leveraging your actual website visitors to help work out your market – not just your ideal customer, but the people that are actually interested enough in your financial products to use your website.
It's tough when it comes to digital marketing for credit unions and banks. The financial industry itself is hugely competitive, and when your business is money, it requires a level of trust that doesn't easily equate to people being loose and free with their personal details. Because of this, it can be difficult to know who you should be targeting with your online credit union marketing efforts.
Using Google Analytics, your credit union or bank can leverage your website to help you work out your market – not just your ideal customer, but the people that are actually interested enough in your financial products to visit and use your website.
You can use this information not just to tell you where and when you should be advertising or other sites you can partner with for maximum effect but also the demographics of people coming to your website and whether you need to be looking at a mobile-first strategy. Even more, you can divide that information into customers versus non-customers.
This is all valuable information that you'd likely pay a lot to a market research company to find out, but you can get it for free using Google Analytics and a bit of know-how. Let's get into it.
Demographics
With the demographics report, you can get detailed age and gender information on users who come to your website.
You can use this information to tailor both your offline and online credit union marketing. Let's consider a credit card landing page – if the analytics show that your users are primarily women aged 25-34, you may consider tweaking the page's layout or content to appeal to that demographic.
How to enable the demographics report (Google link)
Audience > Demographics > Age/Gender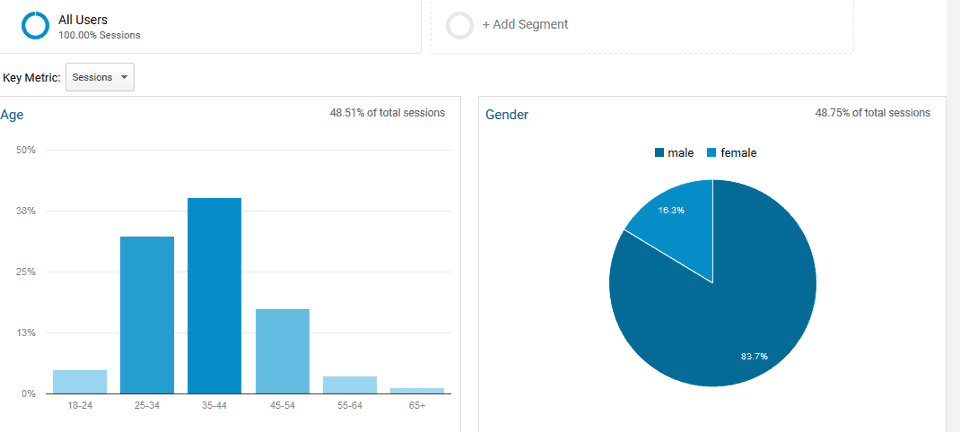 Interests
The Interests report mines data from users' activity across the internet and presents it within categories. It collects this information through previously entered data when a user is logged in, and uses advertising cookies in other cases. It still only represents a subset of users, but can certainly give a good representation, provided you are getting enough traffic to the site.
You may have a subsection of users who, through their other browsing habits, are categorized as Technophiles (so they probably visit technology-based sites); perhaps they're classified as being "in-market" for real estate to buy; and you may have a category of users who are interested in News sites.
You can use this information to help put together a credit union marketing strategy, particularly in terms of media buying across other sites. If your data shows that a decent percentage of your users are also visiting travel sites, you might want to look at buying ad space on those sites.
Audience > Interests > Overview/Affinity Categories/In-Market Segments/Other Categories

Location
One of the most important reports, the Geo data helps you to focus your efforts on particular regions or cities. You can find out where the majority of your users are located, from country, region, and city. You may notice that users from Port of Spain arrive in high numbers, but are reluctant to convert. Is there something in your credit union marketing copy that could be adjusted to appeal to them? Could you run a special offer, targeting Port of Spain customers? Could you ask your local branches within Port of Spain to run some offline advertising that promotes your online offer?
Mobile
With over 30% of web traffic in Trinidad and Tobago coming from mobile devices, you need to start thinking about the experience of your users when they visit your site on mobile. If the figure is above 20%, then it's time to start considering a responsive website if you haven't got one already. If it's not above 20%, it may be that your users already know not to visit your site on their phones. The Mobile report can show you the traffic coming to your website on a mobile or tablet device (and can also show you the browser and operating system, in case your developers want to know what to optimize for).
Audience > Mobile > Overview

Time of Day
The day of week and time of day reports can show you your most popular sessions – and equally, the times when you're least visited. This is especially important for working out when to run AdWords or other advertising; if you've got social ads, such as on Facebook, for a credit card campaign, knowing when people are going to be on your site means you can target them and get the best value for your dollar, without wasting money during slow periods.
We need to create a custom report to see this in action.
Customization > Custom Reports > Import from Gallery > Performance by Time report (or simply click here while logged into your Analytics account to import the report directly).


Segments
Segments are a way of dividing up your website users so you can look at all the data Google Analaytics has to offer through the lens of a subset of users. Perhaps you only want to look at the behavior of users who responded to your credit union marketing and visited your website via the credit card landing page? Maybe you'd like to focus on users over 50 years of age? Or maybe you could split your users into customers and non-customers – people who are logged in versus those who aren't. You could then use the data from this to further target your market.
For example, let's say you've divided your users into "people who clicked submit on the login page" and "others". Focusing on the "others" group, you could start to think of them as leads in the first step of your online sales funnel. They showed interest and came to your website, right? Dive into your audience data and look at these users' ages, genders, and interests – then you can use that information to try and encourage them to convert, however that looks for you. You may want to start up a funnel that starts with a site visit and ends in a credit card enquiry form submission.
Any view > Segments >New Segment

Select the parameters required. For logged in users, if you have an event set up for whenever someone logs in, you can create a segment as follows:
New segment (named Logged in Users) > Conditions > Includes > Event label = logged in > Save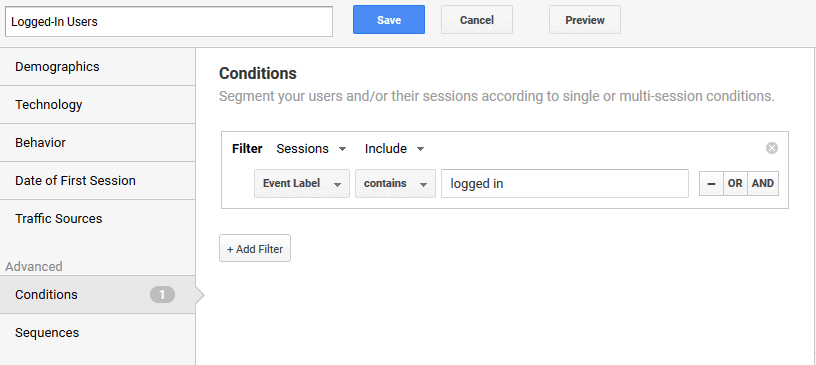 Create another segment that excludes the same group (Non-logged in Users)
Conditions > Excludes > Event label = logged in > Save
You will then be able to look at any report while restricting the data to the user group selected. So you can see demographics, location, devices, pageviews, conversions, and more, all through the view of your logged-in user.
The more information you have on your users, the more effective your marketing efforts – which in turn can lead to more conversions. And in finance, as in business in general, that equates to a stronger bottom line.
We'd love to help you so if you'd like to work with us on better understanding your website visitors to help improve your conversion rates, click here and let's have a chat 🙂