Trinidad and Tobago's internet penetration rate is approximately 79%, while mobile cellular subscriptions stand at approximately 141 per 100 people.
In 2019, we did a deep dive into e-commerce challenges in Trinidad and Tobago. After withstanding the pandemic and the surge of digitalization throughout the world we have applied a new lens to create an updated version of our previous article.
Global retail eCommerce sales have been skyrocketing, surpassing a staggering $US5 trillion in 2022. In Trinidad and Tobago, the eCommerce landscape has come a long way since 2019. The local digital market is slowly but surely making progress, however, the industry still encounters challenges along the way. In this article, we'll dive into the exciting journey of Trinidad and Tobago's eCommerce growth, exploring the latest updates, fresh challenges, and the government's proactive measures to help this vibrant sector flourish.
Progress Made:
Implementation of the National eCommerce Strategy 2017-2021: The government's five-pronged plan has addressed some regulatory issues, facilitated an Electronic Funds Transfer (EFT) framework, and enhanced the country's ICT infrastructure. This has made it easier for businesses to set up online stores and accept online payments.
Increased consumer awareness and confidence: As large corporations adopt eCommerce, consumer trust and confidence have grown. More micro, small, and medium-sized enterprises have also joined the eCommerce market, leading to increased visibility and opportunities. According to a study by the United Nations Conference on Trade and Development (UNCTAD), eCommerce adoption among businesses in Latin America and the Caribbean has been on the rise, and as a result, the region has seen improvements in online shopping adoption. For instance, in 2019, around 14% of the population in the region shopped online, increasing to approximately 21% in 2020 due to the COVID-19 pandemic.
While there isn't specific data for Trinidad and Tobago, the country's growth trends can be inferred based on the broader regional context. As consumers become more comfortable with online shopping and familiar with the benefits it offers, such as convenience and a wider range of products, local eCommerce platforms should see an increase in usage. This growth will be further supported by the government's ongoing efforts to strengthen the eCommerce infrastructure and develop regulations that protect consumers and promote a thriving digital market.
It is important to note that while consumer awareness and confidence have increased, there is still room for improvement. Greater efforts to address issues such as online payment processing, cybersecurity, and efficient delivery services will be essential in promoting further growth and adoption of eCommerce platforms in Trinidad and Tobago.
Improved payment gateways and options: Local banks have continued to provide payment gateway options, and platforms like WiPay have expanded their services. First Atlantic Commerce, a well-established payment gateway, has been offering secure and reliable online payment processing services to businesses in Trinidad and Tobago. Fygaro, an all-in-one platform for eCommerce businesses, has made it easier for entrepreneurs to create online stores and manage their payments.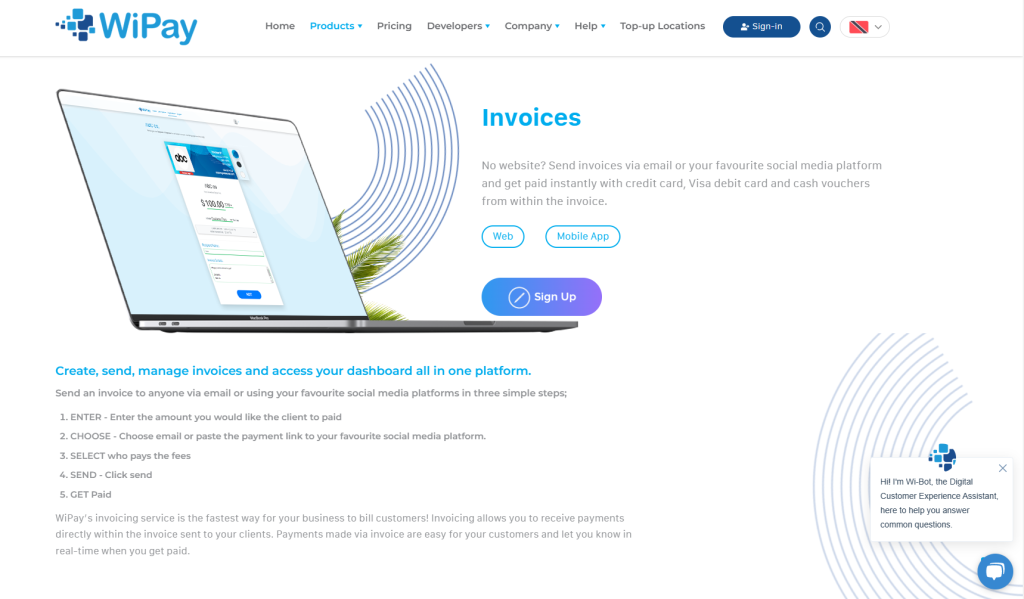 WiPay new invoice services
Scotia Bank has introduced Scotiabank eCom, a comprehensive payment gateway solution that enables businesses to process online transactions securely and efficiently. This has further expanded the choices available to businesses for processing online transactions, making online transactions safer and more accessible to consumers.
Visa Debit cards for online purchases in local currency: One significant improvement in the eCommerce landscape has been the introduction of Visa Debit cards by local banks. These cards enable consumers to make online purchases using their local TTD currency, simplifying the online shopping experience and promoting the use of local eCommerce platforms. However, this development is still a work in progress, with many consumers facing challenges and complaints about their cards not being able to complete online transactions in TTD. As the industry and local banks continue to work on these issues, the overall experience should improve, encouraging greater adoption of eCommerce platforms in Trinidad and Tobago.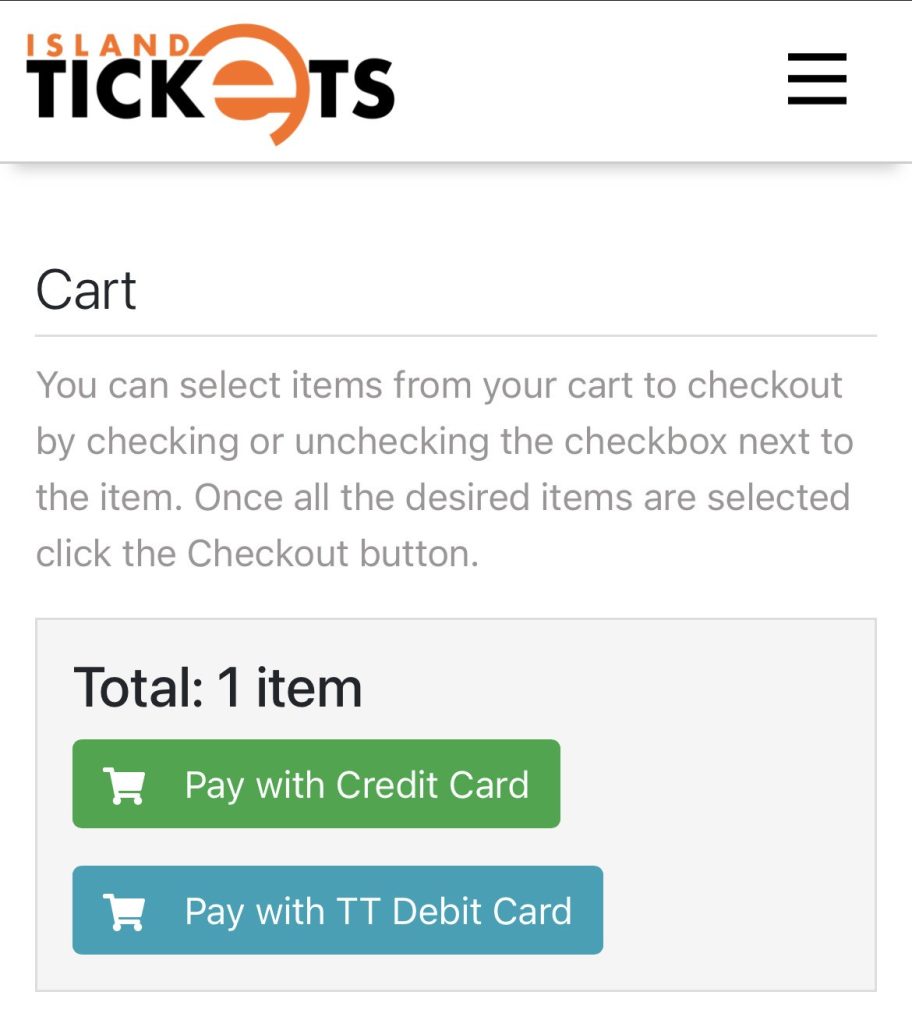 Local online ticket platform, Island E-Tickets, offering payment with TT debit card
Challenges:
Connectivity and infrastructure: Although improvements have been made, inadequate connectivity infrastructure remains a concern, especially in rural areas. Faster and more reliable internet access is necessary to support the growth of eCommerce. According to the World Bank's 2021 data, Trinidad and Tobago's internet penetration rate is approximately 79%, while mobile cellular subscriptions stand at approximately 141 per 100 people.
The "fast forward II" National ICT Plan 2017-2021, as mentioned in the original article, aimed to address the connectivity and infrastructure challenges by enhancing the Information and Communication Technologies (ICT) framework. The plan focused on five strategic thrusts, including improving connectivity and fostering economic development.
Additionally, the Telecommunications Authority of Trinidad and Tobago (TATT) published a "National Broadband Plan" in 2020, which outlines strategies for improving broadband infrastructure and increasing access to high-quality internet services. The plan sets a target of achieving universal access to high-speed broadband services by 2025, which would significantly contribute to the growth of eCommerce in the country.
While these efforts are underway, it is crucial to continue investing in connectivity infrastructure and bridging the digital divide, particularly in rural areas, to fully support the expansion of eCommerce in Trinidad and Tobago.
Consumer trust and security: Despite increased consumer awareness, there is still room for improvement in building consumer trust. Businesses need to ensure the safety and security of their payment systems and transactions to instil further confidence in local eCommerce.
Logistics and delivery: Efficient and timely delivery remains a challenge for many businesses. Companies must continue to optimize logistics, reduce delivery times, and create viable return policies to meet customer expectations.
Benchmark Data:
Between 2019 and 2022, eCommerce uptake among consumers in Trinidad and Tobago has seen a significant increase. This can be attributed to improved payment gateways, increased consumer awareness, and better infrastructure. The COVID-19 pandemic also played a role in accelerating eCommerce growth, as lockdown measures and social distancing guidelines encouraged consumers to shop online for essential items and services.
Government Actions:
Vision 2030 and the National ICT Plan 2017-2021: The government continues to focus on improving the ICT infrastructure and fostering economic development through the "fast forward II" program. This program aims to address infrastructure, digital literacy, government-led online services, private sector adoption of ICT, and the use of ICT for social and environmental challenges.
Consumer protection: The government has enacted a new Consumer Protection Act to address consumer trust online. Other measures include an online Consumer Affairs portal, public lectures on online trade practices, and media campaigns on eCommerce issues and consumer tips.
Consumer Affairs Portal with division's information to aid in building consumers' trust
Export promotion and support for online sellers: Export promotion and support for online sellers: In line with the Inter-American Development Bank's (IDB) recommendations, the government has been working to remove regulatory barriers and enhance support for online sellers through export promotions and credits. The IDB's report, titled "E-commerce in Latin America and the Caribbean: Challenges and Opportunities," highlights the importance of these measures in strengthening the regional digital economy.
In Trinidad and Tobago, the government's National ECommerce Strategy 2017-2021 seeks to create an environment that promotes online commerce, and one of its goals is to increase private sector participation in eCommerce. To achieve this, the government has been working with organizations like ExporTT, the country's export promotion agency, to offer support and assistance to businesses seeking to expand their online presence and tap into international markets.
ExporTT offers a range of services to local businesses, including market research, capacity-building initiatives, and financial assistance programs. For instance, the agency provides the Export Booster Initiative, a grant program that helps small and medium-sized enterprises (SMEs) improve their export readiness and competitiveness. This initiative can be particularly helpful for online sellers looking to venture into international eCommerce.
Moreover, the government has been pursuing trade facilitation measures, such as the implementation of the Single Electronic Window (SEW) for Trade and Business Facilitation, which simplifies the import and export process for businesses by offering a single platform to submit documentation and fees. This streamlined process can further support the growth of eCommerce by making it easier for online sellers to engage in cross-border trade.
While these efforts contribute to enhancing support for online sellers in Trinidad and Tobago, ongoing investment in capacity-building, export promotion, and trade facilitation will be crucial in ensuring the continued growth and success of the country's eCommerce sector.
In conclusion, while progress has been made in the eCommerce landscape in Trinidad and Tobago, challenges still remain. The government's efforts, combined with advancements in technology and the introduction of new payment gateways like First Atlantic Commerce, Fygaro, and Scotiabank eCom, have contributed to the growth of the industry. The adoption of Visa Debit cards for online purchases in local currency has also played a crucial role in promoting local eCommerce platforms.
However, there is still work to be done in improving connectivity infrastructure, building consumer trust, and optimizing logistics and delivery. As businesses continue to adapt and the government strengthens its support for eCommerce, Trinidad and Tobago can expect to see further growth in the sector, ultimately contributing to a more robust economy and increased consumer confidence in online shopping.