With the number of global email users projected to reach a staggering 4.6 billion by 2025, email marketing has transformed into a powerful tool that connects businesses with their target audiences on an intimate level.
Welcome to the first installment of our five-part series, where we dive deep into comparing email marketing strategies to love letters. We aim to provide you with an enriching guide that will revolutionize your approach to email marketing. This series will highlight the nuances of establishing, building, and nurturing customer relationships through emails. Today, we will begin with the most crucial phase – building attraction.
A Love Letter to Your Customers
With the number of global email users projected to reach a staggering 4.6 billion by 2025, email marketing has transformed into a powerful tool that connects businesses with their target audiences on an intimate level. Your emails, when crafted with the finesse of a love letter, can boost customer engagement, increase conversions, and reinforce customer loyalty.
Love letters have a special charm that remains unmatched. The emotions they stir, the anticipation they create, and the intimacy they foster are unparalleled. Now, picture your email marketing strategy as a series of love letters to your customers, a communication channel through which you can build genuine connections that can evolve into long-term relationships.
Like in any romantic pursuit, the first phase is all about building attraction. The journey towards gaining subscribers can be likened to the courtship process. This dance of persuasion aims to convince your prospects about your value proposition, to trust you with their attention and, eventually, their loyalty.
You wouldn't approach your love interest without understanding them. Similarly, effective wooing of subscribers involves a comprehensive understanding of their preferences, needs, and pain points. You can garner this information through careful market research and interaction with your audience. Use this understanding to tailor your email content, making it not just informational but also resonating on a personal level.
Subscribers aren't just data points; they are your potential partners in a relationship that promises mutual growth. Appeal to the human behind the screen, make them feel seen and heard and be consistent in your efforts. Consistency is the key to nurturing any relationship. Maintain a regular emailing schedule and ensure that your content remains relevant and valuable.
Before the endearing process of courtship begins you must first place yourself in a position to be noticed. We put together a few tips to get your customers interested and coming back for more.
Irresistible Lead Magnets: Love Potion for Your Love Letter
The right words can evoke strong emotions, making a love letter nearly impossible to ignore. In the world of email marketing, lead magnets serve as the 'love potion' that gives your content an irresistible pull.
Lead magnets should not only promise value but also deliver it promptly and efficiently. Whether it's a knowledge-packed e-book, a useful template, or an exclusive discount, your lead magnets should clearly communicate the instant benefits your prospects stand to gain upon subscription.
Once you've been successful in attracting their attention, it's essential to follow through with compelling content that bolsters the initial impression, turning your potential leads into ardent followers. Tailor your lead magnets to reflect your audience's needs, preferences, and the problems they are looking to solve. Keep updating your lead magnets based on changing trends and feedback to remain relevant and desirable.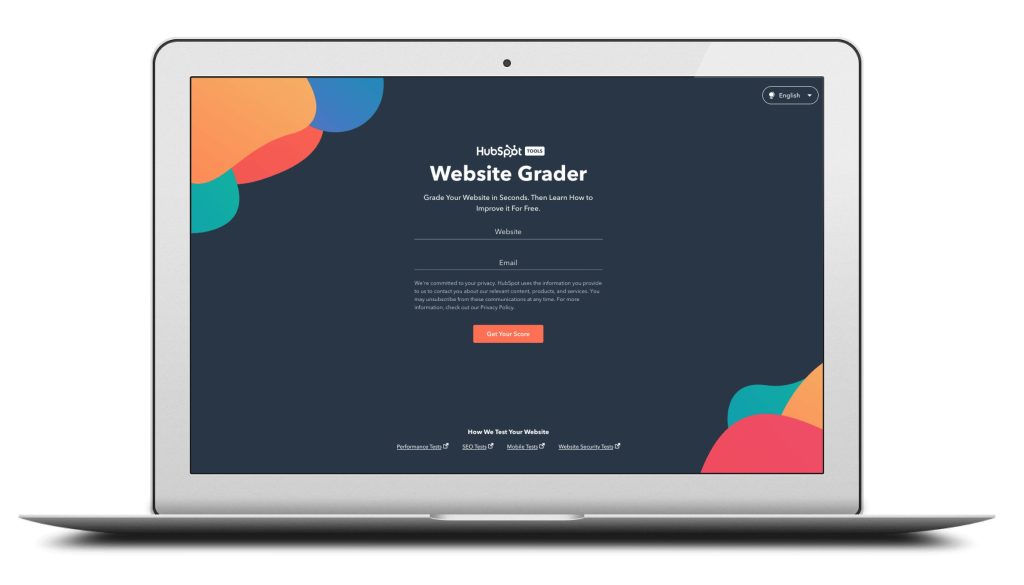 HubSpot provides Website Grading tools for its audience to assist with website optimisation
Sign-Up Forms: Setting the Stage for Your First Date
First impressions are vital, both in love and in business. Your sign-up forms are the first point of interaction with your potential subscribers, setting the stage for future engagements. The design and placement of your sign-up form can greatly influence the subscription rate.
Just like preparing for a first date, pay attention to the aesthetics and functionality of your sign-up forms. Make them visually appealing, easy to locate, and user-friendly. The sign-up process should be smooth, and quick, and not require excessive information. Keep the forms simple and only ask for the necessary details.
Your sign-up form should also include a value proposition – a reason why your prospects should subscribe. This could be in the form of a discount or a promise of regular, valuable content. Building trust at this stage is paramount, so reassure your prospects about data privacy and respect for their inbox.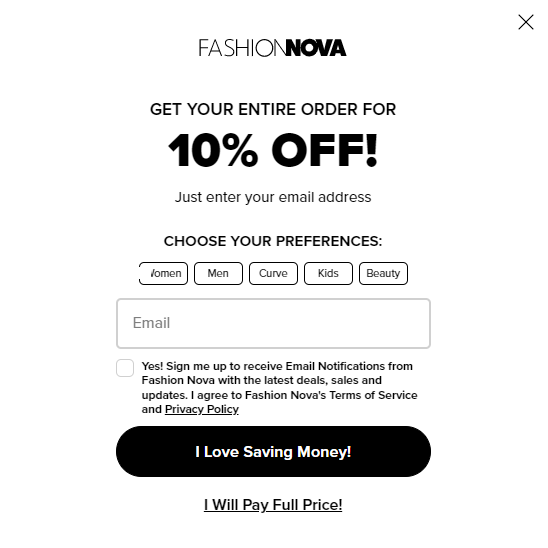 Fashion Nova's email sign-up forms clearly communicate an offer, one entry field for an email, and what their audience can look forward to by subscribing
Leveraging Social Media: Profess Your Love with PDA
There's a certain allure in public displays of affection, be it through a message scrawled on a bench or a well-crafted Instagram post. In the digital marketing landscape, your social media platforms can serve as your canvas for such public displays of affection (PDA).
Your social media channels can boost your email subscription rates by serving as an extension of your newsletter. By teasing your email content on social media, you entice your followers to subscribe for more. This strategy helps you reach a wider audience and increases the chances of gaining more subscribers.
While sharing snippets of your email content on social media, remember to keep the tone consistent. This ensures that your brand image remains unified across different platforms. Also, consider the best times to post on different platforms for maximum visibility.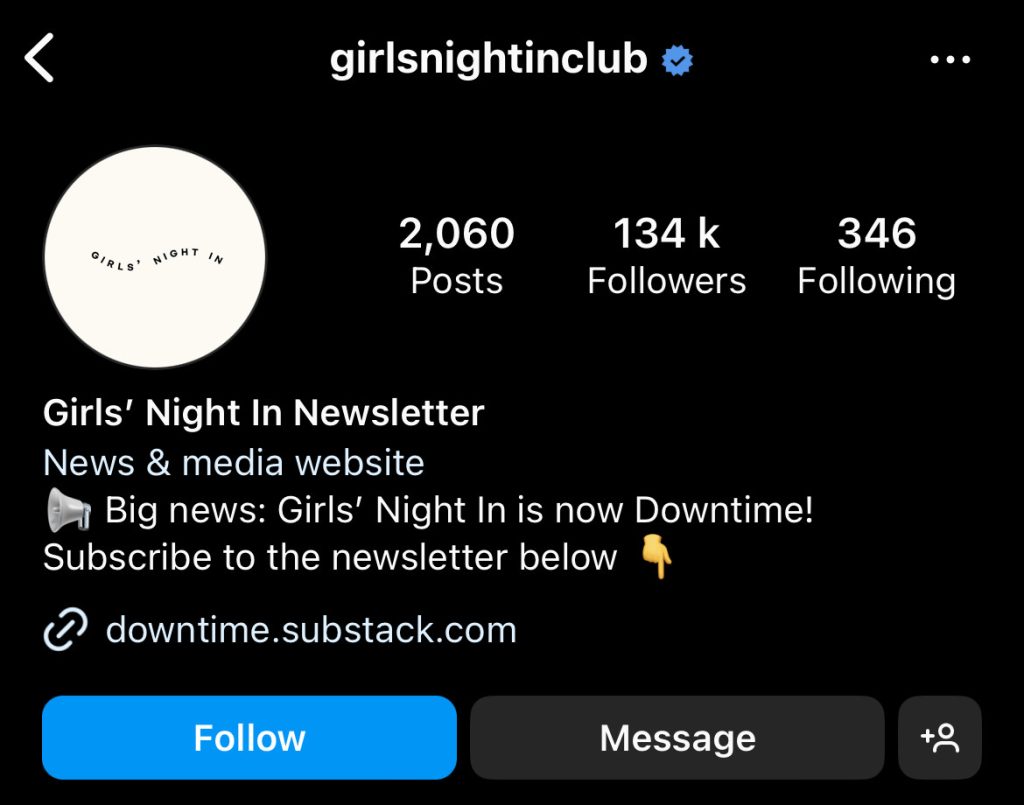 Girls Night In utilises their Instagram bio to directly invite their audience to subscribe to their newsletter
Referral Programs: Playing Cupid
Sometimes, the best way to earn more subscribers is by leveraging the ones you already have. By introducing referral programs, you essentially encourage your existing subscribers to play Cupid and introduce your brand to their network.
Referral programs can significantly boost your subscriber base, given that people trust recommendations from friends and family. To make your referral program effective, ensure it's simple to use and offers clear benefits to both the referrer and the referred.
Communicating these benefits clearly can increase participation and successful referrals. Remember, each new subscriber through referrals is potentially a new ambassador for your brand, widening your reach even further.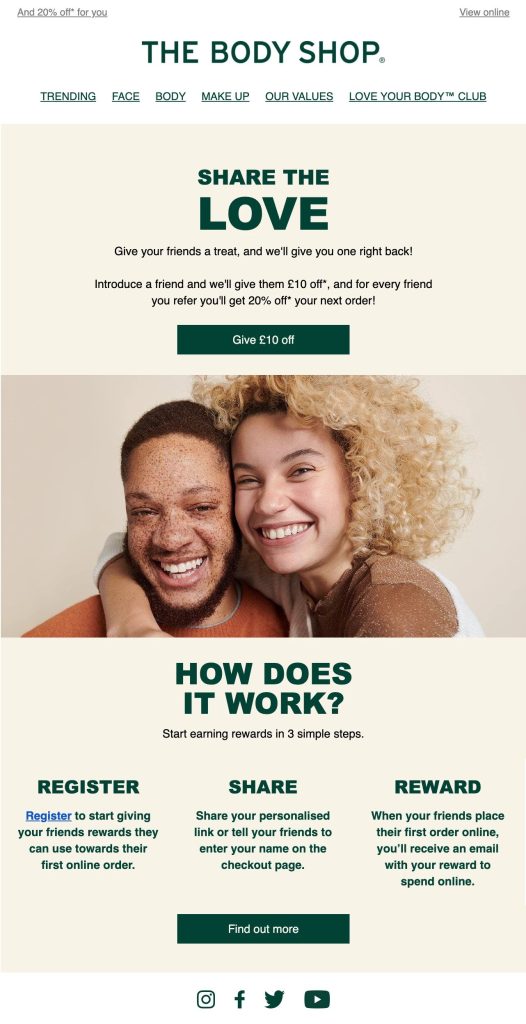 The Body Shop referral program directly highlights the incentive involved and the steps your audience must take to redeem the offer
Optimizing the Subscription Process: From Love at First Sight to 'Till Death Do Us Part'
From the first time you laid eyes on your love to showing them off to the world, it is time to make it all official!  In the email marketing world, this is your subscription process. Optimizing this process can convert your prospects from interested onlookers to committed subscribers.
Transparency and trust are crucial at this stage. Clarify what the subscribers should expect in terms of content and frequency. Reassure them about data privacy and make it easy for them to opt-out if they choose. This respect for their preferences can solidify their trust in your brand.
Keep testing and refining your subscription process based on feedback and performance metrics. This continuous improvement reflects your commitment to offering the best experience to your subscribers, thus nurturing a loyal subscriber base.
HubSpot clearly identifies its privacy policy on its subscription form
Creating a successful email marketing campaign is akin to writing a compelling love letter – it requires understanding, creativity, authenticity, and persistence. Every element, from the initial courtship to the final commitment, contributes to creating a delightful experience that not only gains you a subscriber but also earns you a brand advocate.
We fully grasp the magnitude of information you just read, and we're here to lend a helping hand on your journey. Rest assured, we've meticulously curated an email marketing cheat sheet, serving as your trusted companion in constructing campaigns that foster meaningful connections with your valued subscribers. Get ready to unlock the captivating magic that lies within the distinctiveness of your audience, empowering you to infuse each email with an irresistible blend of authenticity and charm.
Stay tuned as we continue this journey in our next installment. We will delve deeper into other facets of email marketing, providing you with more detailed insights, tips, and strategies to further strengthen your bond with your subscribers. Until then, start penning your love letters with an open heart and an understanding mind, because, at the end of the day, love is indeed, in the mail!
Don't forget to download the FREE Cheat Sheet below!